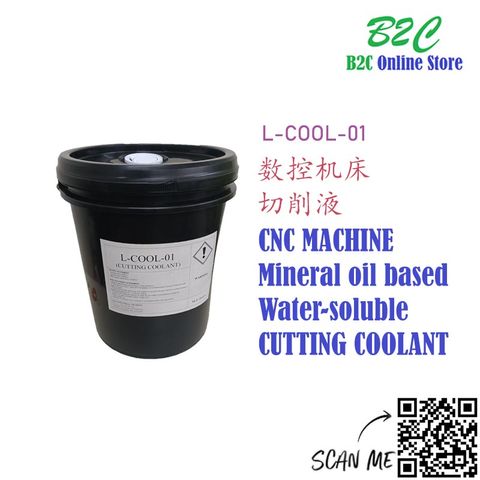 L-COOL-01 CNC Machine Mineral Oil Based Water Soluble Cutting Coolant 20L
L-COOL-01 CNC Machine Mineral Oil Based Water Soluble Cutting Coolant 20L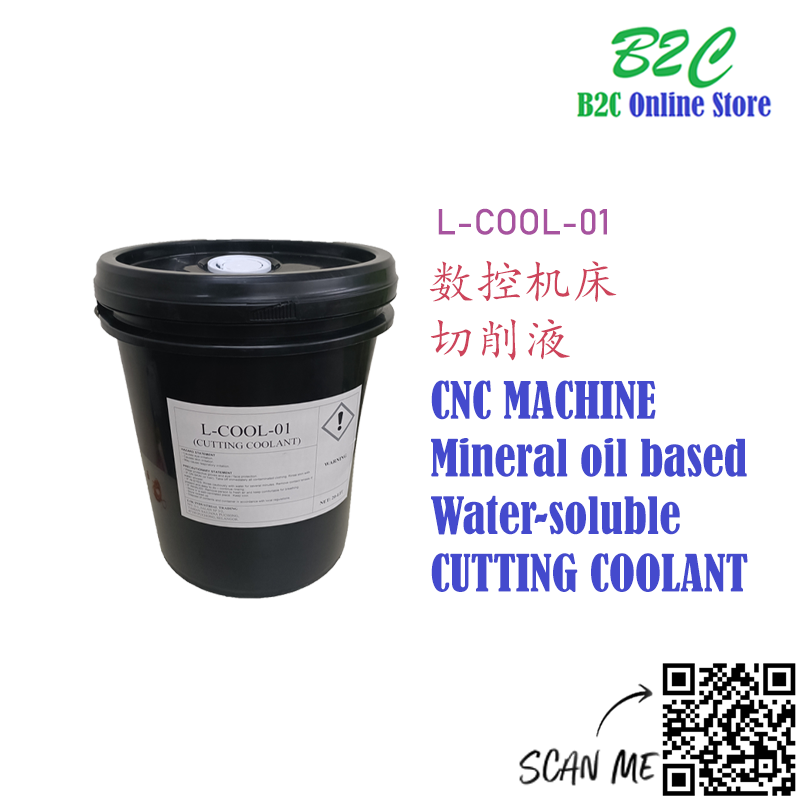 Product Name: Cutting Coolant
Model: L-COOL-01
Capacity: 20L
Product Description:
L-COOL-01
- Is a mineral oil based water-soluble cutting coolant which is free from sodium nitrite, silicone oil, secondary amine and active sulfur. It is formulated with hydro-treated base oil, anti-rust package and performance additives that allow balance of lubrication effect, anti-corrosion and emulsion stability.
L-COOL-01
- Provides good wetting and cooling properties ensures accurate dimension control during the machining process. It is also provide excellent anti-corrosion for all common ferrous metals and Aluminum and its alloy.

Features and Benefits:
- Compatible with wide range of materials including cast iron, aluminum and steel.
- Effective in most operations such as grinding, sawing, drilling, milling and CNC turning by varying concentrations.
- Control the growth of bacteria which is a constant problem in soluble oil circulating systems due to outside contamination.
- Provide excellent rusting and corrosion protection for the ferrous and non-ferrous metals.
- Stable in hard water and leaves no sticky residue.
- Low odor and low foam.

Applications:
L-COOL-01
- Is recommended for machining of ferrous and non-ferrous metals. It is specially designed for machining of aluminum and its alloy.
L-COOL-01
- Is designed for use in milling, turning, drilling, boring, sawing, threading, etc.
- Recommended concentration is 5% - 10% or higher.
- The concentration should be adjusted to fit different machining technologies.
- Always add L-COOL-01 to water to avoid forming sticky invert emulsions that do not emulsify properly in water.

Appearance – Concentrate Clear brown liquid
Appearance – Solution Milky white
Specific Gravity @ 20oC 0.911
Viscosity @ 40oC, mm2/s 60
pH value @ 6% Solution 9.65
Corrosion Protection @ 6% Solution 0 degree
Aluminum Corrosion Test @ 6% Emulsion Level 1

Remarks:
- It is possible for a slight difference between the actual product and the picture shown.
- All products are 100% brand new.
- Please do not comment right away, If you have after-sales problems, please contact the sales person and we will solve it for you as soon as possible!
- Since the "Courier Delivery Time" is not under our control, please try to contact the courier company provided by System to understand the status of your parcel.
- Due to overweight problem, if the order quantity is more than 1 pail, please order separately.
- Please contact customer service directly if any parts and accessories cannot be found in our store, we will try our best to meet your needs!
- Welcome and Thank you for visiting!